When it comes to working from home, many of us yearn for a space in which we are able to feel both relaxed and productive. We want a space where we can focus during the 8-hour work day, and when everything has settled, be able to relax with some tea and your favorite book, listen to music or spend time with family. At Sunnyfields and Delbert Adams Construction Group, it is our job to create beautiful at-home spaces for you to enjoy. Here, our team provides inspiration and tips on enhancing the spaces of your home that may often be overlooked, and showcase some of the recent projects our teams have completed.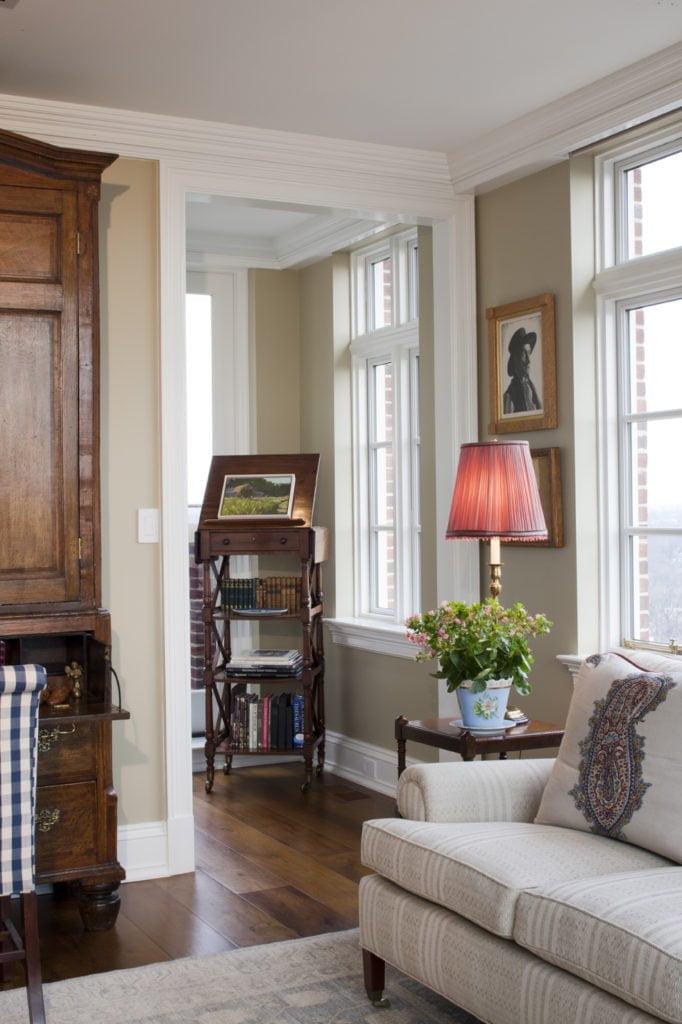 Consider Creating a Nook for Relaxation After a Hard Day
Just because many of us are working from home does not make our days any easier. In fact, our days are often harder, filled with taking care of your children as they navigate the complexities of online school, adjusting to new technology to promote workflow, and learning how to communicate with your loved ones as you work close together on a daily basis. That is why it is so important to create a space for you to relax and unwind. Consider creating a cozy nook from an unused space in your home, a place where you can let go of your worries and let your mind and body relax. This space is the perfect place for some quiet time. Filled with large windows that provide ample natural lighting and a stunning view, we would love to utilize this space. The warmth of the wood floors and cabinetry bring a sense of comfort as we move into the chilly fall days.

Invest in a Space for Much Needed Family Time
While it may be difficult working amongst the rest of your family members on a daily basis, having a space to come together and talk is important. During this time, many of us are struggling with adapting to changing regulations and lack of social interaction, but one thing is for sure, we will always have our family. Spaces such as this dining room provide a fantastic way for families to come together over food, games or just conversation. Additionally, as regulations are slowly lifted, having a space to safely entertain is a must. Investing in luxurious spaces such as these can provide a sense of joy and hope as we make our way through this tumultuous season, providing a place for friends, family and loved ones to come together to make unforgettable memories. At Sunnyfields and DACG, our teams take a strategic approach to every project, working to create a space that is detailed, unique and fit to last a lifetime.
Create the Home of Your Dreams With Sunnyfields
If you have been waiting to take the next steps in your home remodeling journey, it's time to make the leap. As we all spend additional time at home, we deserve to have the spaces in our home that we've always dreamed of. The good news is, Sunnyfields can make that a reality. With an eye for luxury and a dedication to providing quality craftsmanship in every service area, our team is here to bring your vision to life. To learn more about how Sunnyfields can assist you in any of your kitchen and bath remodeling plans, contact our Baltimore office today.