At Sunnyfields Cabinetry, our Baltimore-based cabinetry designers provide custom, high quality design solutions for those all across Charm City. With unparalleled attention to detail and a collaborative and innovative approach to every project we take on, Sunnyfields is here to bring your vision come to life. Whatever style you dream of, Sunnyfields is ready to design a home that will last a lifetime. Sunnyfields was lucky enough to be mentioned in a recent issue of Architectural Digest, seen below.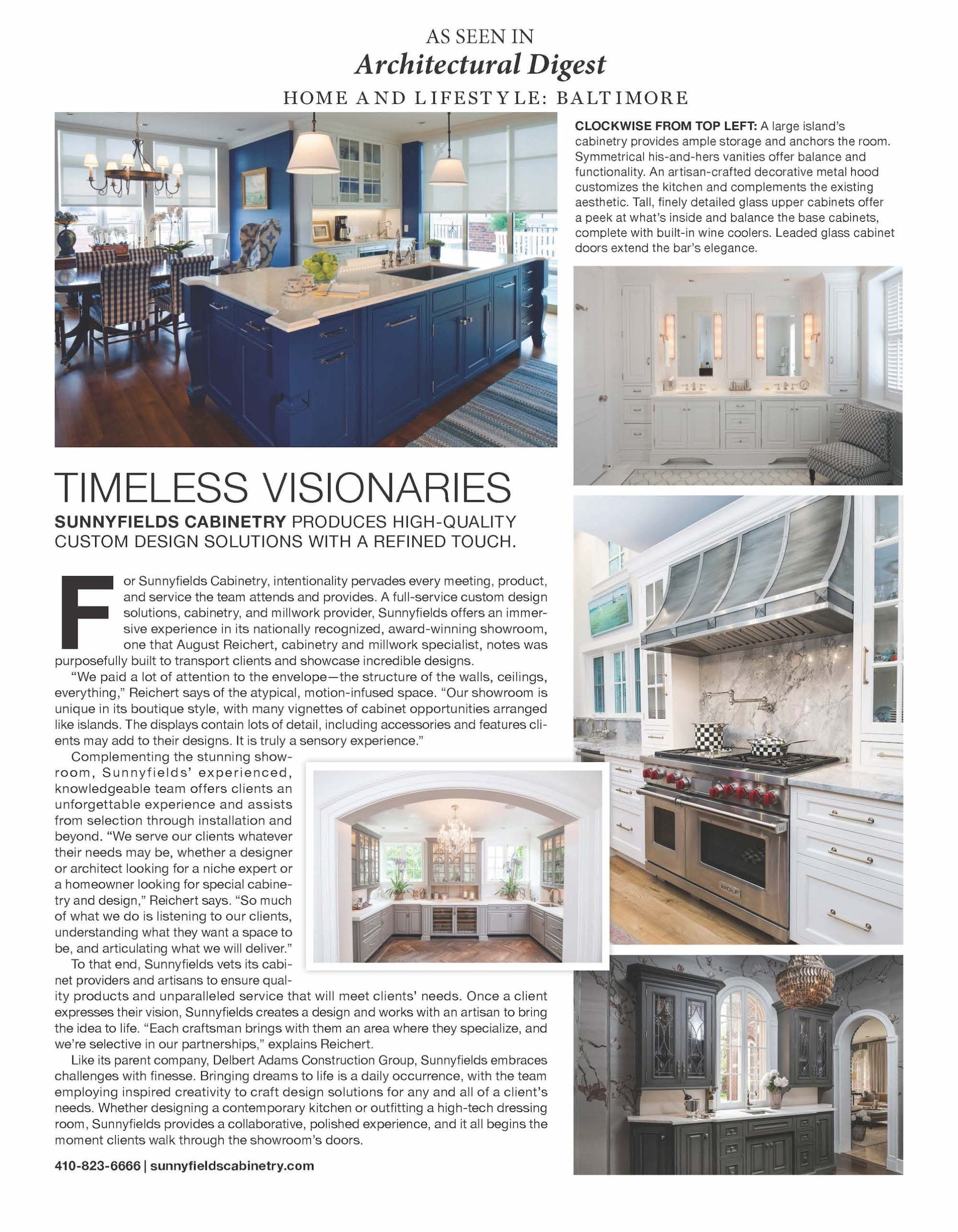 Sunnyfields Cabinetry Described As "Timeless Visionaries" in Architectural Digest
As a homeowner, we understand that the desire for your home to be designed perfectly to suit your needs. Every homeowner is different, which is why working with a team that collaborates on every aspect of your home is a must! Cabinetry and millwork specialist for Sunnyfields, August Reichert, sums up our mission perfectly. "We serve our clients whatever their needs may be, whether a designer or architect searching for a niche expert or a homeowner looking for special cabinetry and design," says Reichert. "So much of what we do is listening to our clients, understanding what they want a space to be, and articulating what we will deliver." Architectural Digest goes on to state that Sunnyfields "provides a collaborative, polished experience, and it all begins the moment the client walks through the showroom's doors."
From timeless elegance to modern design, there are no limitations to what Sunnyfields can do for you. From crisp lines and neutral tones to eclectic and colorful kitchens and bathrooms, Sunnyfields Cabinetry is ready to serve Maryland for years to come. Check out some of our favorite projects in the gallery below, and contact Sunnyfields today to see how our team can bring your vision to life.