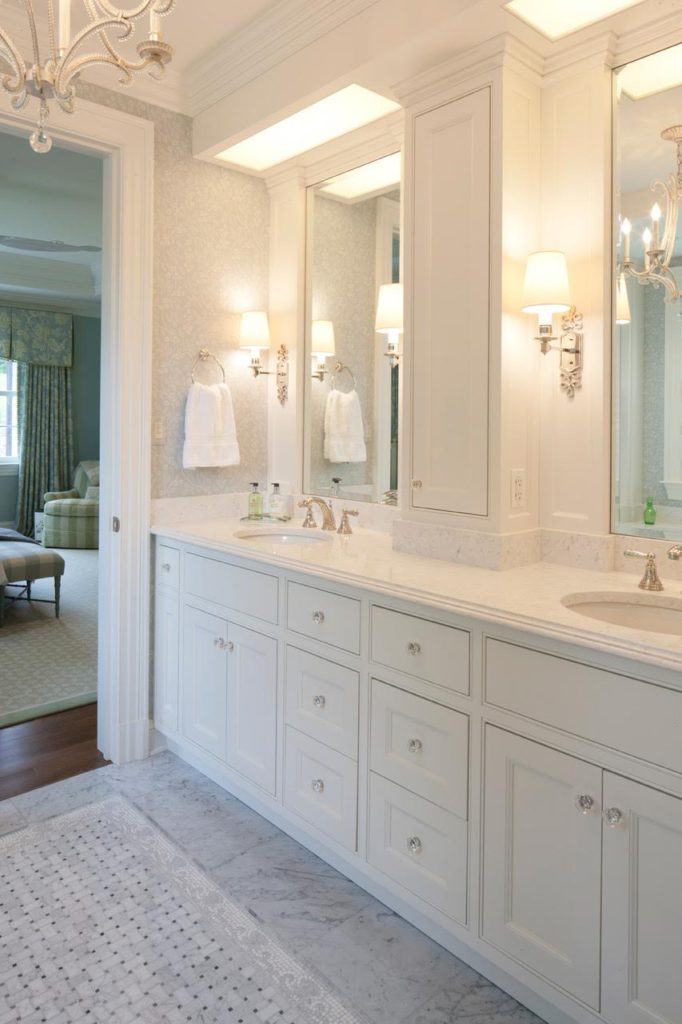 Our bathrooms have many purposes. They are the place where we bathe our kids, powder our nose, fix our hair, shower our tired bodies, wash our dogs and so much more. That is why it is so important to have a beautiful, relaxing bathroom space for you and your family to enjoy. Whether you've always pictured a luxurious soaking tub or an ultra-modern walk-in shower, Sunnyfields can take your vision and make it a reality. 
Let Your Bathroom Become an Oasis
These past few months have given many of us time to begin a new self-care routine. From stunning countertops to ample bathroom storage, Sunnyfields can help you design a space perfect for relaxation. Our team prioritizes communication and attention to detail in every project we complete, and strives to go above and beyond when completing your next bathroom remodel. Often, the spaces we use every day get overlooked, settling for the ordinary when Sunnyfields can design the extraordinary. Take this beautiful bathroom for example. This bathroom remodel exudes elegance and class with crisp marble countertops, intentional lighting and spacious cabinetry. Perfect for a master bathroom, this remodel will surely be put to good use. Our team is also equipped with CAPS, or certified aging-in-place specialists. When considering your bathroom remodel, be sure to discuss living-in-place options with our team of knowledgeable and certified experts.
Start Your Bathroom Remodel With Sunnyfields Cabinetry
The Baltimore team of luxury bathroom and kitchen cabinetry designers at Sunnyfields are here to help you with your next bathroom remodel. Whether you prefer a classic, neutral style or a modern and eclectic bathroom space, our team will work with you throughout the entire process to ensure you receive the bathroom of your dreams. Our design-build process was created to provide Maryland homeowners with custom cabinetry and remodeling services. We utilize strategic design and consistent communication with each client to build their dream bathroom, and our cabinetry and construction teams carefully craft these rooms with detail and precision. Check out these stunning bathroom remodels below, and contact the Maryland cabinetry designers at Sunnyfields Cabinetry today to learn more.