Today, the luxury home construction professionals at Sunnyfields Cabinetry are bringing you some kitchen island inspiration. With functional layouts, stunning accent pieces and pops of color, these kitchens are absolutely show-stopping. As many of us continue to work from home, our kitchen island has likely become a multi-purpose space, ready for family dinners, Zoom meetings, homework and more. Check out these luxurious kitchens from Sunnyfields below.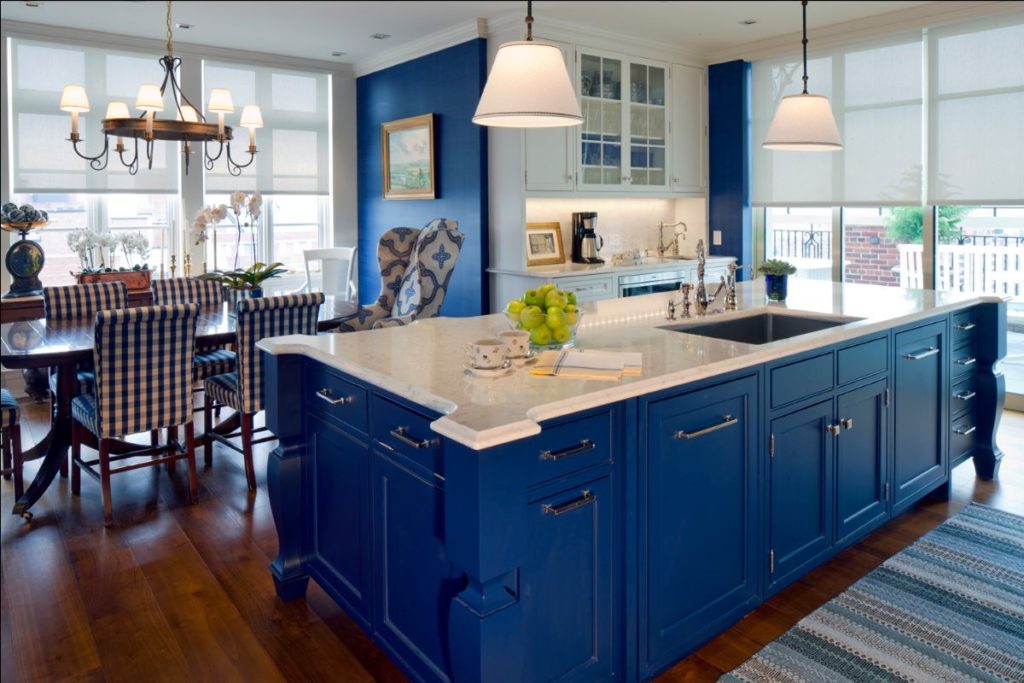 Sunnyfields Offers Innovative Kitchen Remodels for All Styles
This first kitchen is unlike any other. With stunning blue custom cabinetry paired with a crisp marble countertop, this island is surely the centerpiece. Your kitchen space should be both functional and stylish, providing an area to both relax and cook with family, as well as entertain.At Sunnyfields, our designers focus on schematic design, guiding you through detailed discussions to ensure that your kitchen remodel is executed in a unique and efficient manner. Whether you prefer a simple design, or desire an innovative an eclectic kitchen space, the Baltimore-based team at Sunnyfields Cabinetry is here to bring your vision to life.

Build Your Dream Kitchen With the Baltimore Remodeling Team at Sunnyfields
If you want to turn your house into a dream home, look no further than Sunnyfields. Based in Baltimore, Maryland, our dedicated team has years of experience helping our community build and remodel their dream home. With custom, modern and innovative designs, the team at Sunnyfields Cabinetry works to exceed your expectations and make your vision a reality. To learn more about how Sunnyfields can help you, contact us today. In the meantime, check out these beautiful kitchen islands as inspiration for your next home project.