This circa 1920's house was remodeled more than two decades ago by owners who enlisted a contemporary design.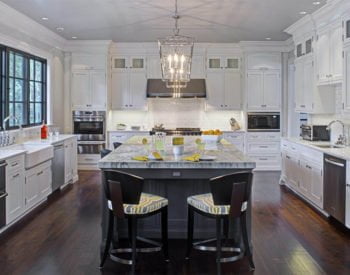 The home was later purchased by its current owners who recognized the beautiful bones of this gem and vowed to restore it to its original glory. Sunnyfields Cabinetry, in partnership with Vince Greene Architects, Lauren Hurlbrink Interiors, and Delbert Adams Construction Group, set out to design and create a traditional kitchen amid a whole house remodel.
Of utmost importance to the owners was a light and bright space. Additionally, they sought a space which was functional for cooking and entertaining, contained ample storage and had the space for hanging out in the kitchen around the island counter. Sunnyfields Cabinetry worked tirelessly to bring their vision to life!
The Sunnyfields' kitchen design incorporated large and generous work areas for food prep, clean up and cooking, combined with a contrasting furniture styled island that serves as a workstation as well as casual dining space. The large cabinets are custom Rutt Cabinets in a crisp white with polished nickel and stainless steel hardware. They make the space especially glamorous and functional while also being designed with dual compartment wall cabinets to offer expanded storage locations while selective glass doored cabinets offer vignette display options.
A large crown molding and frieze detail was designed to help ground the cabinetry in a kitchen with exceptionally high ceilings. The floors are made of a beautiful walnut, the countertops are handpicked marble, and the gorgeous Lepage windows give the space a light and airy feeling.
This "kitchen of today" checks all of the boxes for the fun and active family; the open floor plan in combination with top of the line appliances, ample storage and countertop space allow for activities of all kinds.
Want to learn more about this project or how you can bring your vision to life? Please visit Sunnyfields Cabinetry for more information.
BEFORE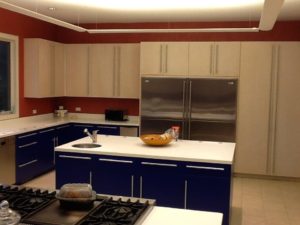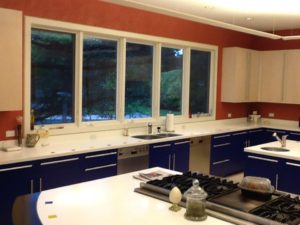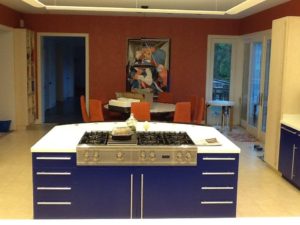 AFTER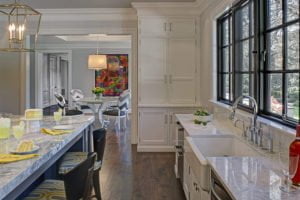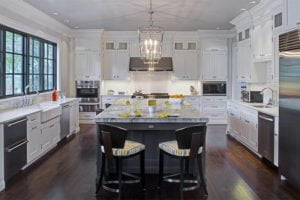 To read the full article, originally published in Baltimore Fishbowl, please click here.