Here at Sunnyfields, we believe the best way to fight wintertime blues is by starting a fun and rewarding home remodel project. Here are a few relatively simple home remodel projects to work on this winter as the temperature starts to drop.
Revive a Dull Kitchen with New Cabinets and Backsplashes
You want your kitchen to be a warm and inviting space, but outdated cabinets and dull or non-existent backsplashes do little to evoke these feelings. Enhance your kitchen by updating your cabinets and adding to or updating your current backsplash. Cabinets and backsplashes do not need to be utilitarian or boring—they can be made in a great variety of materials, painted or stained innumerable colors and affixed with a wide range of knobs, handles, hooks and other fixtures. Discuss your needs and wants with a certified design specialist—like the ones at Sunnyfields—who can help you pick the perfect cabinets or backsplash to create the perfect look for your kitchen.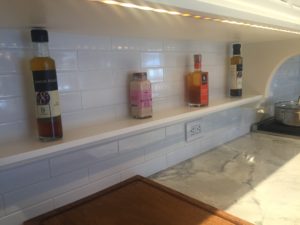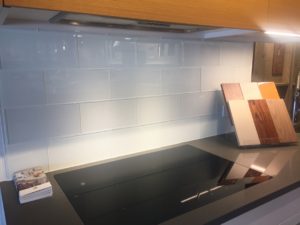 Create Statement-Making Walls
Everyone knows that a fresh coat of paint can liven up dingy or drab walls—but what about adding some texture, elegance and interest with wainscoting and crown molding? Wainscoting, or paneling, typically lays over the bottom third of a wall, providing protection to the wall in highly trafficked areas, as well as visual appeal. Crown molding rings the uppermost part of the wall which meets the ceiling, and helps a room exude luxury and beauty. Play around with different types of wainscoting and crown molding to find the perfect combination for your living room, dining room, great room, study or foyer.
Enhance the Storage Space in Your Bathroom
Many bathrooms are not built with adequate storage space, which can leave bathroom counters cluttered and disorganized. Beat the mess by installing new cabinets and shelving—they can even be made of materials that are humidity- and dirt-resistant. Cabinetry specialists like Sunnyfields even offer cabinets that are constructed for full-access, meaning each cabinet provides 15% more usable storage and organization space.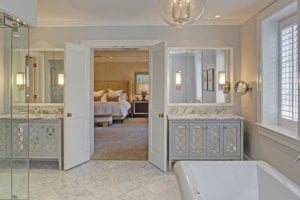 Add a Few Beautiful and Glimmering Finishing Touches
What could be better on a dreary winter day than choosing beautiful, shiny pieces to set off your home's design? Artisans like Simon Pearce create gorgeous dishware, giftware, statuettes and lighting fixtures that suit a wide range of aesthetic styles. Each piece is handcrafted in exquisite glass, and can truly bring a home to life. Want to show these pieces off more effectively? Choose cabinetry and shelving options that incorporate glass panels or open space that allows the pieces to make a statement, even while they aren't in use.
The Specialists at Sunnyfields Want to Bring Your Design Dreams into Reality
Sunnyfields is transforming the way specialty rooms are designed by bringing a SOHO flair to Baltimore. Our talented, detail-oriented and friendly professionals work with you through every step of the design and installation process, ensuring each design feature meets all of your expectations. Want to get started on a new project this winter? Contact us today for more information about how we can help.