Have a friend who's passionate about home design, or know a newlywed couple who are in need of some beautiful pieces for their new home? This holiday season, give a gift that is both beautiful and functional. Here, the design aficionados at Sunnyfields suggest some wonderful giftware options for any special person in your life.
Simon Pearce Glassware
Simon Pearce, an Irish-American glassmaker and designer, has been creating functional and sophisticated glassware since he was 16 years old. After apprenticing at his father's pottery studio, he went on to work with several notable European glassmakers, and then opened his own studio. His pieces could be described as "timeless," "simple" and "designed to last generations." Simon Pearce glassware is a great choice for that friend who exudes elegance and has a passion for minimalist designs. It also makes a wonderful gift for a parent, who may then pass the piece down through the generations.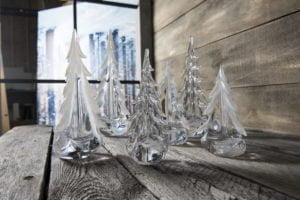 Simon Pearce makes a wide variety of glassware, including wine, pint and whiskey glasses, champagne flutes, pitchers, carafes, vases, cake platters and more. What better way to create a celebratory meal together than with exquisitely designed glassware? For those who appreciate bold design, the Woodstock or Royalton Optic Pendants are a luxurious way to light up any space. Looking for a holiday-themed, yet tasteful gift? The Vermont Evergreen Trees, either in classic or bubbled designs, are a perfect addition to any holiday mantelpiece.
Andrew Pearce Wood Line
For those who appreciate rich colors and robust, yet simple designs, the Andrew Pearce line of wooden bowls, cutting boards and servers are the perfect holiday gift. Andrew Pearce, the son of Simon Pearce, was raised in a highly artistic environment that is an important part of the Pearce family tradition. Encouraged by his parents to develop his own unique passions, Andrew became interested in woodwork, an interest that amplified after working under the Johannes Michelsen in Manchester, Vermont. Now, with his wife, Christy, he runs his own woodworking design studio, creating stunning pieces for clients across the globe.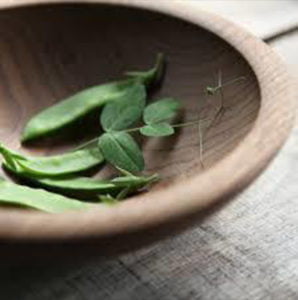 Wishing to pursue his passion while remaining an environmentally-conscious citizen, Andrew Pearce developed machinery and a style of creating wood pieces that allows multiple pieces to be cut from the same block, minimizing waste and encouraging forest sustainability.
Incorporating a live edge design into many of his pieces, Andrew Pearce's wood line brings a natural and elegant simplicity to kitchenware. Anyone who values superior craftsmanship and environmentally conscious design will welcome a gift of one of his bowls, servers or cutting boards, offered in both Black Walnut and Cherry.  
—
This holiday season, give a gift that is as beautiful and elegant as it is practical and collectible—whether you purchase an Simon Pearce glassware piece, or a wooden creation from Andrew Pearce. The dedicated staff at Sunnyfields are ready to help you find the perfect gift for your friend or loved one—contact us today to learn more about our giftware offerings. Happy Holidays!