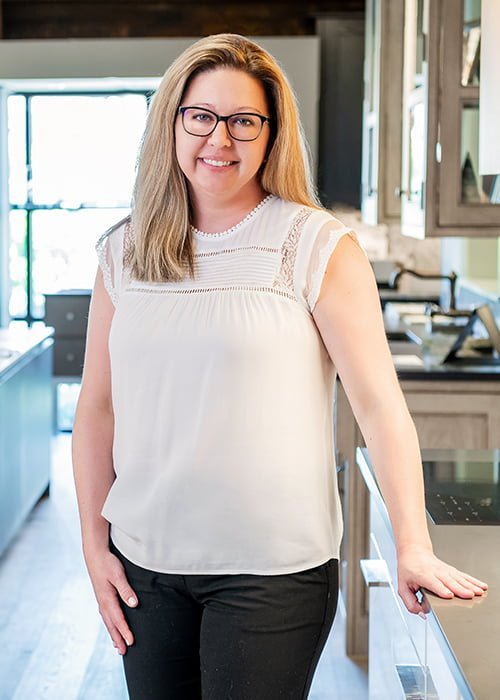 As a Project Designer, Leslee brings over 20 years of experience in kitchen, bath, and cabinetry design and specification to Sunnyfields.  With a degree in Interior Design, she works to provide design and space planning solutions that are both functional and beautiful for her clients.  Leslee's work focuses on builders, remodelers, and clients, providing excellent service with a critical eye for detail.
When designing a space, such as a kitchen, making sure the new space will be gorgeous is key, but how it functions for the whole family is critical. I work with my clients to help hone their aesthetic vision while ensuring the design works well for how they live.  The space should function effectively for food prep, cooking, cleaning, food storage, and utensil storage zones all being factored in with a good flow from one to the other. Additionally, every item, whether it be a small appliance they want to get off the countertop or their grandmother's vintage dinnerware, should have a home. So what matters most? In my opinion, it is making sure that specific storage solutions are included and the flow of the space works well for the homeowner.
While I agree that your home should be your sanctuary, I also know that the word and the experience mean different things to different people.  Your home should be where you feel the safest and most comfortable. For some, that means using natural elements and making sure there is abundant outdoor light coming in. For others, it means creative spaces with decorations that allow their personality to shine through. I love that different rooms can evoke their own unique emotions and that I have the unique privilege to help clients create whatever 'sanctuary' means to them!